Siam-Info

≡ Menu

Internet in Thailand

The rapid growth of internet usage can lead to extreme bottlenecks, if the provider is not quick enough in advancing his net development. The lack of data transmission rates, turns surfing the internet into agony. It is therefore helpful to be able to fall back on recommendations of friends and acquaintances. The price should not necessarely be the primary criteria for your choice of provider.


ADSL, ADSL2+, VDSL

In the meantime, the possibility to receive quick internet access using ADSL exists almost everywhere in Thailand. In the early days of ADSL, deployment used to be with an existing telephone line, now they prefer its own line or a fiber line.


DOCSIS - TV network

Thai cable TV network providers have finally noticed that their infrastructure can be used and is suitable for providing internet connections. A splitter separates the TV cable between the television and the so-called cable LAN adaptor. This adaptor then allows internet communication with the PC.
Provider:
true online
Fiber

Optical Fibre Cable is one kind of high-speed broadband connection.


Satellite-Internet-ipstar

As substitute for ADSL, Mobile broadband Internet is better. Satellite-Internet-ipstar is slow in the comparison to ADSL. I think it is ideal for cruise-ships for example.
Provider:
ipstar Service Providers

Mobile broadband Internet

Mobile broadband is a wireless Internet access for smartphones, tablets or Notebooks with portable modem. In the meantime, the possibility also exists for surfing the Internet even if no ADSL is available. With Tethering or a mobile broadband modem, also a PC can use this internet. Tethering allows sharing the Internet connection of smartphones or tablets with other device such as notebook or pc.
● GPRS

According to the provider, this technology should be nearly three times faster than a normal modem connection (up to 153 kbps). Experiments carried out in Germany proved practical results of 60-70 kbps.


● EDGE

Enhanced Data rates for GSM Evolution, or EDGE, is a digital mobile phone technology which acts as a bolt-on enhancement to GPRS networks. EDGE can carry data speeds up to 236.8 kbit/s for 4 time slots in packet mode.


● 3G

3G technology has a connection rate of max. 7.2 Mbps.


● 4G (LTE)

4G, is the fourth generation of mobile telecommunications technology, succeeding 3G. 4G technology has a connection rate of max. 100 Mbit/s.

Not really flat rate pricing! After a certain data-quantity, it becomes verry slow!

Find the best network in your area:
https://opensignal.com/
WLAN-Hotspots

Modern notebooks are usually equipped with integrated components to use the internet in a cordless network company. Normal Desktop-PC's can of course be re-equipped to accept this technology. In the vicinity of some hundred meters around the WiFi hot spots, wireless contact with the internet is possible. Most WiFi hot spots are to be found in Bangkok as well as in tourist centres (airports, large hotels)


Compare Broadband Technologies
My Tests
3BB - ADSL 16Mbps - to Bangkok

3BB - ADSL 16Mbps - to Frankfurt

3BB - Fiber 100Mbps - to Bangkok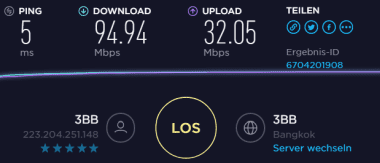 3BB - Fiber 100Mbps - to Frankfurt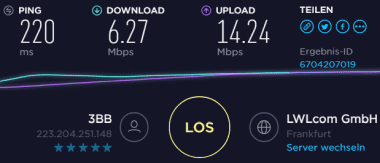 TRUE - DOCSIS - to Bangkok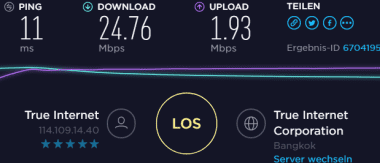 TRUE - DOCSIS - to Frankfurt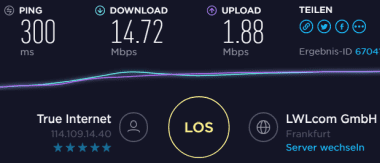 AIS - Fiber 100Mbps - to Bangkok
AIS - Fiber 100MBps - to Frankfurt

Link
speedtest.net
test current data transmission rate

NECTEC
Internet connections in Thailand

adslthailand.com
Voice of Broadband Citizen


Internet Provider
3BB
AIS

CSL
TOT

True

Category
Internet Telephone (VoIP)
≡ Menu


All data is provided without guarantee!

I, the operator of www.Siam-Info.com (Heinz Klaus Thiesen), stand in no business connection, with the enterprises specified on Siam-Info. I therefore naturally take no responsibility for the information of the enterprises specified above. The contributions show only my personal opinion.